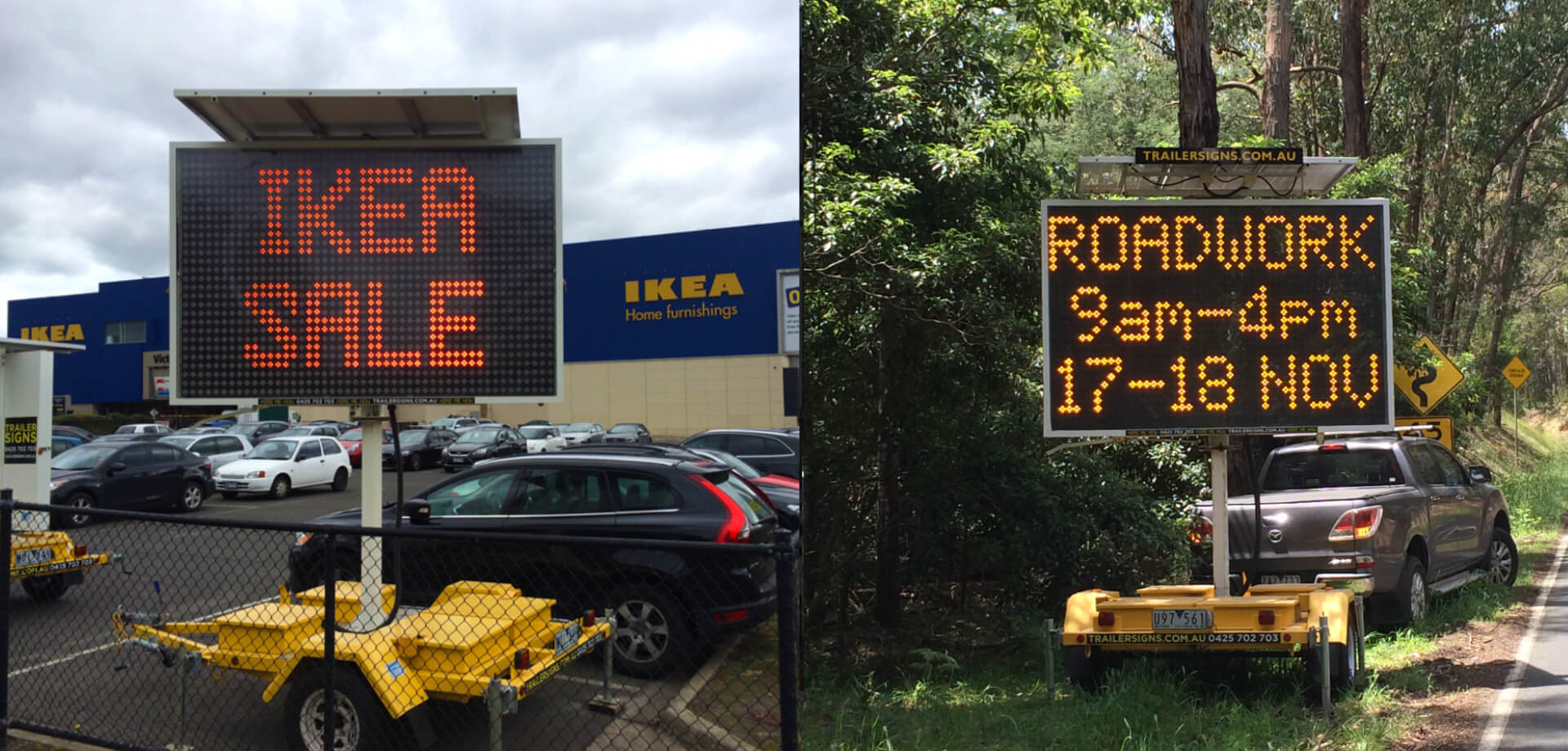 for 24/7 operation
Solar Powered with battery back up
Message can be changed at anytime
Easiest color for traffic to read
One-color amber for the text
AMBER VMS SIGN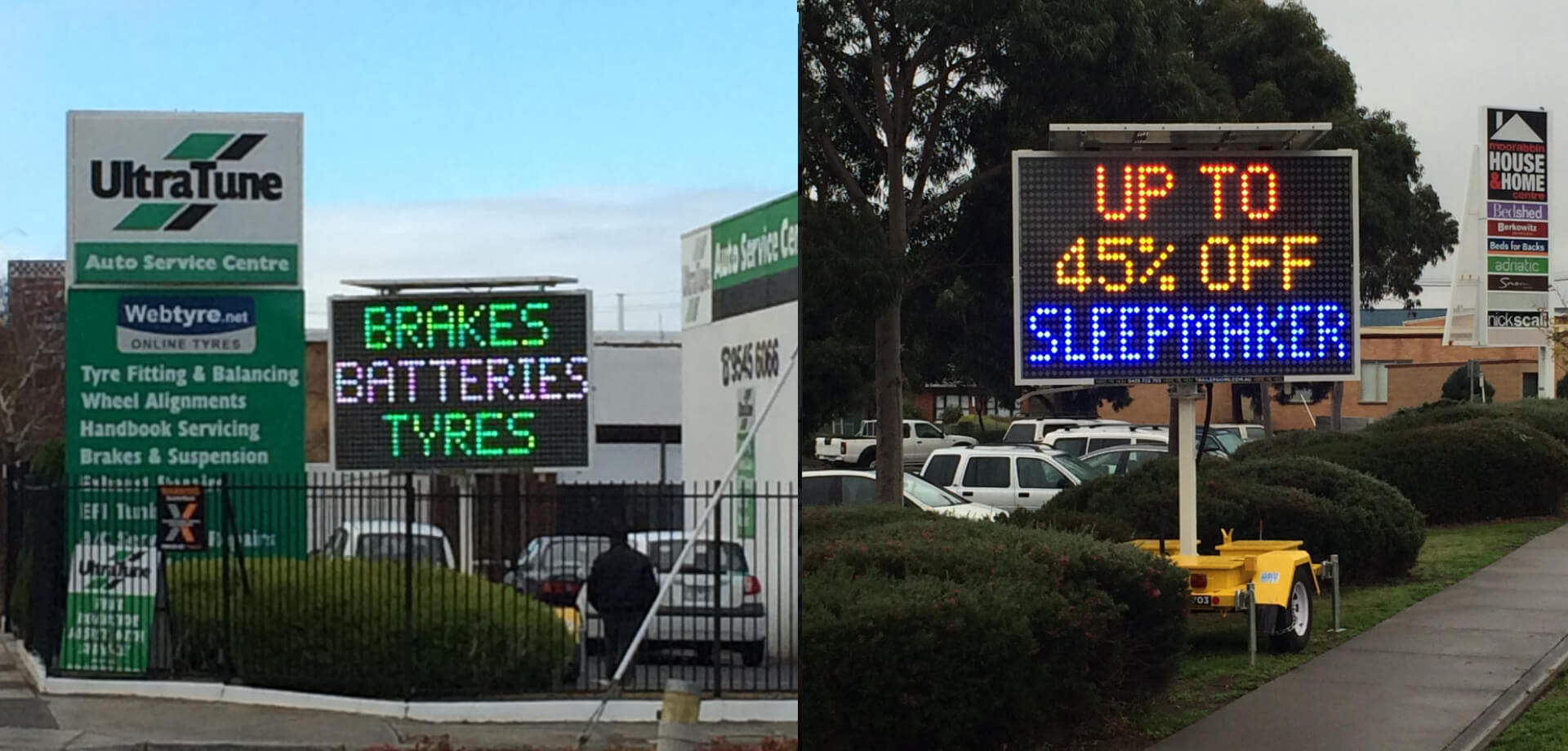 for 24/7 operation
Solar Powered with battery back up
Message can be changed at anytime
Five colors for the text
COLOUR VMS SIGN
Available for hire only in Victoria
more interest!
secure the trailer into position for you.
Move to different locations to attract
We will deliver, set up and lock and
2 side panel and 1 back panel
Printed banner on 3 sides
a billboard Trailer Sign
Be Seen from every direction with
BILLBOARD TRAILER SIGN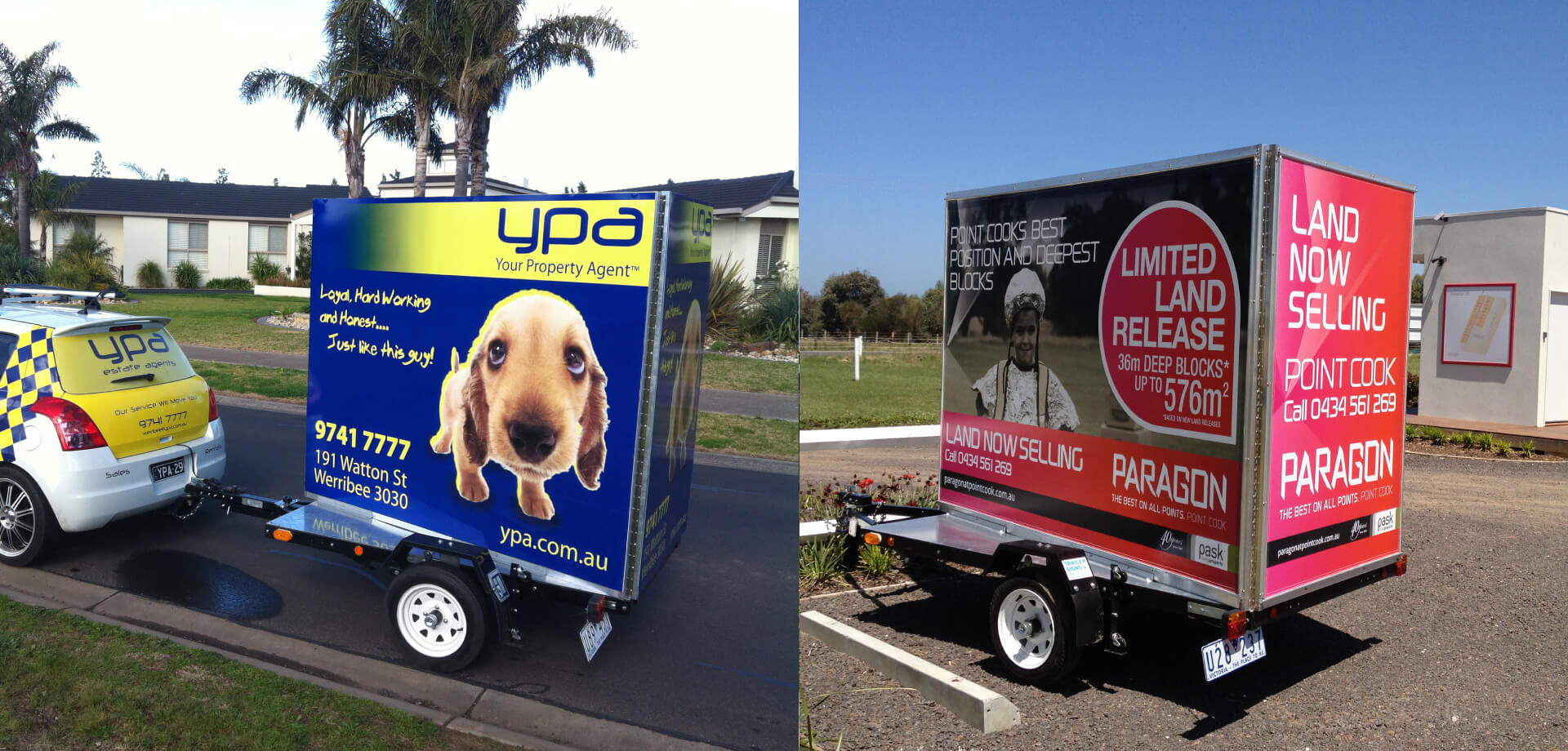 vehicle or park it and leave it
You can tow it behind your own
and lightweight.
A Trailer Sign's trailer is easy to use
2 side panel and 1 back panel
Printed banner on 3 sides
Australia wide, or for hire in Victoria only
3 different sizes available for sale
MOBILE TRAILER SIGN
Trailer Signs provide a range of products for your roadside advertising needs. This includes Variable Message Signs (VMS) or Electronic Advertising Boards, Billboard Trailer Signs Mobile Trailer Signs, Outdoor Electronic Message Sign boards in Melbourne.
We specialize in business advertising but our Variable Message Signs or Variable Message Boards are also suited for traffic control and event management. Our trailers run 24 hours a day, 7 days a week, are solar powered and comply with Australian Standards.
We have prompt delivery of your advertising trailer. Message changes for the electronic message boards (VMS) are programmed remotely by us, whenever you need, even after hours. All our fees are included in our quote so you will not pay extra for GST, delivery, insurance or message changes.
We have very competitive prices so call us for a quote today.

Why Choose Trailer Signs?

With competitive prices and the best advice on where to place your trailer for the best impact

We deliver and set up all our trailers and are available to deliver when you need it

We provide the latest technology from around the world and keep our equipment clean and well maintained
Client Review

The team at Trailer Sings are magnificent. The customer service has been great, from the first meeting to delivering the trailer, all the way up to removal of the trailer. Strongly recommend these guys!

We have used Trailer Signs for a while now, and the exceptional customer service by the team is why we keep coming back. Great quality product and service.

Great customer service! We have been working with Trailer Signs for almost 2 years now and would highly recommend using them.
One color amber for the text

Easiest color for traffic to read

Message can be changed at anytime

Solar Powered with battery back up for 24/7 operation
Five colors for the text

Message can be changed at anytime

Solar Powered with battery back up for 24/7 operation
Be Seen from every direction with a billboard Trailer Sign

Printed banner on 3 sides – 2 side panel and 1 back panel

We will deliver, set up and lock and secure the trailer into position for you.

Move to different locations to attract more interest!

Available for hire only in Victoria
3 different sizes available for sale Australia wide, or for hire in Victoria only

Printed banner on 3 sides – 2 side panel and 1 back panel

A Trailer Sign's trailer is easy to use and lightweight.

You can tow it behind your own vehicle or park it and leave it